Extracurricular activities
Painting, creating, drawing, crafts, and above all, dreaming and imagining. That is what we look for from our little artists and it is something that goes hand in hand with our concept of childhood. This is the time for them to play, share dreams and develop all their creative abilities. That is why our Art School aims to help children to know themselves better and to express themselves through a variety of techniques, full of laughter, materials and colors.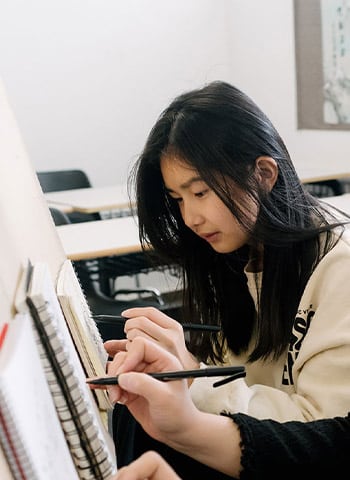 Objectives:
The classes are aimed at developing the artistic skills of each student, within their own level and at their own pace, enjoying the process at all times, encouraging and pushing each student to "play" with the material in a way that both awakens their curiosity and leads them to discover new ways to represent what surrounds us, and awakens our curiosity or their creativity.
Ages: Infant and primary
Schedules:
Children: Monday and Wednesday from 16:45h to 17:45h or Friday from 16:45h to 17:45h.
Primary: Tuesdays and Thursdays from 17:00h to 18:00h.

Price: 1 day 29 euros/month | 2 days 47 euros/month
Beginning: Second half of September.
"To awaken your curiosity and lead you to discover new ways of representing what surrounds us."
For more information contact our Extracurricular Activities Coordinator.
Discover our educational project in a personalized visit.